---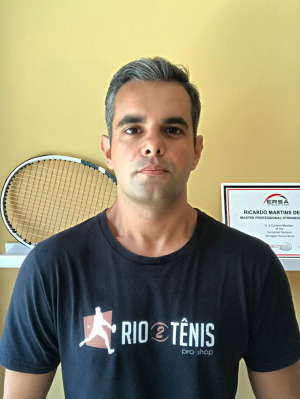 Member:
Ricardo Martins Debeis
Business Name:
-
Residence:
Rio de Janeiro - Brazil
Website:
-
Contact:
Tel.:
+55 21 981527917
E-Mail:
rio2tenis@rio2tenis.com.br
Certificates:
Tennis: No certificate, but stringing
Badminton: no
Squash: no
About themselves:
---
Encordoador e proprietário da "Rio 2 Tênis" desde 2016 e técnico em raquetes com certificado Master Professional Stringer – Level 1 desde 2017.
Meu intuito principal é orientar o cliente/jogador a utilizar o material mais indicado para o seu perfil. A importância do material instalado e utilizado da melhor forma previne lesões e explora o melhor de cada jogador.
English Version:
I'm a racquet Stringer and owner of "Rio 2 Tênis" store since 2016. I became a racquet technician back in 2017 when I put myself to test to get the "Master Professional Stringer – Level 1".
My main goal as a professional, is to guide my client/tennis player to use the most appropriate equipment to his/her profile. The importance of the material installed and used in it's best way prevents injuries and exploits the best of each player.