---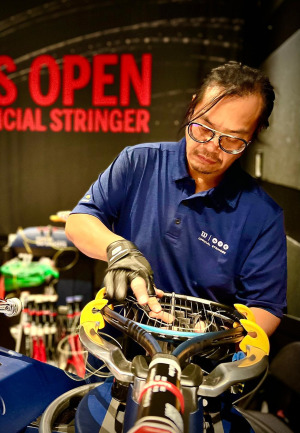 Dickie Lee is a manager
Responsible countries: China
Responsible sports: Tennis
Business Name:
Sun Sport
Residence:
Hong Kong - China
Website:
-
Contact:Certificates:
Tennis: Master Pro Tour Stringer
Badminton: no
Squash: no
About themselves:
---
The world renowned professional rackets technician from Hong Kong.
Work focuses specifically on the all phases of tennis over the 20 years. More than 84 times of the official stringer titles recorded in world tennis tour, which included the Grand Slams, ATP and WTA tour year-end championship. The 35 times continuously Grand Slams records, which is a only Chinese stringer who has participated in the most Grand Slams in the world. In 2008, he was offered by International Olympic Committee to be a member of the official stringing team in the Beijing Olympic and Paralympic Games. This is a remarkable milestone in the tennis history of world tour and especially in the China.
Strung at the following tournaments:
Tennis:
Beijing 2008 Olympic Games
Beijing 2008 Paralympic Games
US Open ~2006-2022
Australian Open ~ 2008-2019
French Open ~ 2012,2015-2016,2020-2022
The Tennis Master Cup Year-end Final, Shanghai China 2002
Shanghai ATP Master 1000 2009-2014
Indian Wells BNP Paribas Open 2015-2019
The WTA Tour Year-end Final, Doha 2008
The WTA Tour Year-end Final, Shenzhan 2020
Hong Kong Davis Cup, Hong Kong China 2003-2005
Heineken Open, Shanghai China 2000-2004
China Open, Benjing China 2009 - 2019
Heineken Open, Shanghai China 2000
Kiwi Open, Shanghai China 2001
Polo Open, Shanghai China 2002-2003
Prudential Hong Kong Tennis Open 2014-2018
Cathay Pacific Champion, Hong Kong China 1999-2000
Chevalier ATP Champion Tour, Hong Kong China 2005-2006
CMG Open, Hong Kong China 1999