---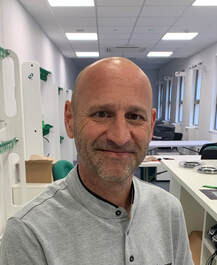 Thierry Goor is a manager
Responsible countries: United Kingdom, South Africa, Global
Responsible sports: Tennis
Business Name:
Pro Stringers
Residence:
Guildford Surrey - England
Website:
www.prostringers.co.uk
Contact:
Tel.:
+44 7708 425 741
E-Mail:
thierry@ersa-stringers.com
Certificates:
Tennis: Pro Tour Stringer Level 1
Badminton: no
Squash: no
About themselves:
---
I am passionate about providing the best string job to all our customers, whether a social club player or a seasoned pro. I love being part of the tennis stringing industry.
After 35 years in corporate (Airline IT) business, I am now a full time stringer, my focus is;
1. Tournament stringing
2. Stringer Education as part of the ERSA International Team
3. Running Pro Stringers® (Racquet Stringing & Customisation)
Strung at the following tournaments:
Tennis:
Been part of the Wimbledon stringing team since 2021
Strung multiple WTA events (1000, 500 & lower)
Strung multiple ATP events (500 & lower)
Strung at multiple UK based events, GB Pro Series, ITF and Junior Europe events