---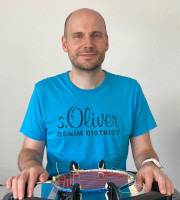 Alexander Feller is a manager
Responsible countries: Germany, Austria, Switzerland, Global
Responsible sports: Badminton
Business Name:
Racket-Service Feller
Residence:
Karlsdorf-Neuthard - Germany
Website:
racket-service.info
Contact:
Tel.:
+49 176 6412576
E-Mail:
ersa@racket-service.info
Certificates:
Tennis: Pro Tour Stringer Level 1
Badminton: Pro Tour Stringer Level 1
Squash: No certificate, but stringing
About themselves:
---
My main job is as a system administrator at a large international web hoster. I play mainly Badminton and Table Tennis, but also Squash, Tennis and Racketlon.
In 2010 I started with a cheap drop weight machine, which I upgraded with a Wise Tension Head in 2011. At the end of 2012 I bought a professional stringing machine (Yonex ES5Protech). This was followed in 2018 by a Yonex Protech 8 Deluxe.
In the beginning I had mainly strung Badminton. Now it's balanced, maybe a little more tennis than badminton.
Strung at the following tournaments:
Tennis:
Since 2019 ITF Juniors Cup Bruchköbel
Since 2021 ITF Juniors Cup Renningen/Rutesheim
2022 Porsche Tennis Grand Prix (WTA 500)
Badminton:
2019 BWF World Championships
2016 Südostdeutsche Meisterschaften
Since 2018 BW-Meisterschaften der Altersklassen
Several other local tournaments